EXPERIENCE ABOVE AND BEYOND FROM OUR ANTI-AGEING SKIN HEALTH AND PREVENTION SPECIALISTS

Located across from Maroochydore's Sunshine Plaza inside the Kon-Tiki Business Centre, our skin services are about enhancing your natural beauty, so you can be your best self. With an unmatched level of experience and care that goes far deeper than just the epidermis, our team is dedicated to creating your skin solution with a range of tailored anti-wrinkle, filler, laser, and skin rejuvenation therapies. 

Your skin health is important to us, so we use the highest-grade machines to ensure brilliant results. By investing in advanced technology, products, and services, we're investing in you. 
Meet Your Skin Specialists
MELISSA DRURY

Founder and Director

Melissa Drury is our clinic founder and director, having worked as a nurse across the UK, Sydney and Sunshine Coast for more than 30 years. Before opening her MD Cosmetic and Skin Clinic to peruse her passion for cosmetics and skin full-time, Melissa worked in specialty areas, including midwifery, dermatology, plastic surgery and burns. Melissa's medical background was a steppingstone into cosmetics. Founding her clinic meant Melissa could utilise her keen eye for symmetry and love of both science and art, using advanced techniques, products and devices to create beauty and enhance confidence.

Melissa's favourite treatment is the A-list facial, which taps into Australian lime caviar enzyme's healing properties, combined with a rose or gold mask and LED therapy for soft and plump skin. A close second is BroadBand Light (BBL) technology, a diverse and effective treatment that dramatically improves a host of skin issues. Mel has seen many treatments and technologies come and go, but the dramatic results from BBL treatment are unlike anything the industry has seen before.

SORIAYA CONNELLY

Clinic Manager

Soriaya is our multi-talented receptionist, now working full time in administration for MD Cosmetic and Skin Clinic; is also a qualified beauty therapist and holds a laser license with Queensland Health. Coming up to a decade of working in the cosmetic skin and laser industry, Soriaya's favourite procedure is Skin Needling because of its ability to treat a diverse range of stubborn skin conditions. Her favourite aspect of administration at MD Cosmetics is welcoming clients, making them feel comfortable, and supporting the girls on their busy days.

AMANDA COX

Clinic Coordinator

Amanda Cox has been in the cosmetic industry for more than 20 years. Amanda effortlessly builds enduring relationships with all new and regular clients, which she finds by far the most rewarding aspect of her role at MD Cosmetic and Skin Clinic. Her top pick out of all procedures and treatments is cheek filler, as she sees clients walk out with instant result of volume and definition.
KELLIE HOLT

Dermal Therapist

Kellie brings to MD her extensive knowledge and passion of skin science. She has completed her graduate diploma in Dermal Science and holds an unrestricted QLD health laser license. She specialises in treating all skin conditions ranging from Acne to general ageing. Her favourite treatments are combination treatments that treat the skin from top to bottom utilising our BBL, Lasers, Skin Peels and Hydrafacial. Loved by clients for her in depth skin consultations, providing solutions & creating skin treatment plans by using our gold standard treatments & medical grade skincare. 

LAURA BARNES

Registered Nurse

Laura brings over nine years experience as a registered nurse to her cosmetic treatments. As well as obtaining a Bachelor of Nursing and Health Science. Laura is an advanced cosmetic nurse and clinical specialist trainer. She has extensive experience working alongside leading plastic and reconstructive surgeons.

As a cosmetic injector, Laura specialises in dermal fillers, antiwrinkle and advanced antiaging treatment and performs the latest cosmetic techniques, her passion for art, creativity and love for medical science drew her to the cosmetic field.

Laura uses her keen eye for the finer detail and a 360 holistic approach to antiaging. She conducts in depth consultations that helps her clients feel confident in their treatment plan. She firmly believes in patient education and safety and regularly attends congresses and conferences to maintain her skills and knowledge at the highest level.

TAYLA STUMER

Registered Nurse

With a Bachelor of Nursing Science and Graduate Diploma of Cosmetic Nursing to her name Tayla is highly educated and experienced.

Tayla possesses an in depth knowledge of skin science.
This, combined with her exceptional talent in all injectables, including dermal fillers and anti-wrinkle treatment, make her one of our clients favourites.

Attention to detail and Taylas commitment to addressing and delivering optimum treatment solutions for her clients concerns, is second to none.

Tayla is continually seeking the latest state-of-the-art treatment and products. This desire for knowledge along and her continual commitment to be at the forefront of all things cosmedical are just some of Taylas finest assets.

Among some of Taylas favourite treatments for her patients are Hydrafacial and replacing or plumping the lips with hydrating filler. Tayla loves how both these treatments make her clients look and feel.

Out of our clinic her favourite love though, is her beautiful furbaby Sadee.
SAMANTHA NASH

Dermal Therapist

With over two decades in the beauty and laser industry, Samantha's expertise is evident in each treatment she administers. Among her favourite treatments is the BBL laser, which she loves recommending to clients due to the dramatic results she witnesses.

Samantha's commitment is evident in her passion for skin health. She takes pride in sculpting a personalised treatment journey for her clients, aiming for outstanding results tailored to their unique needs.

Outside the clinic, Samanthas loves rock music. An avid concert-goer, she thrives on the energy of live performances. Her wanderlust spirit takes her to beautiful destinations, but at the end of the day, it's her furry companion, Tennessee, that brings immense joy to her life.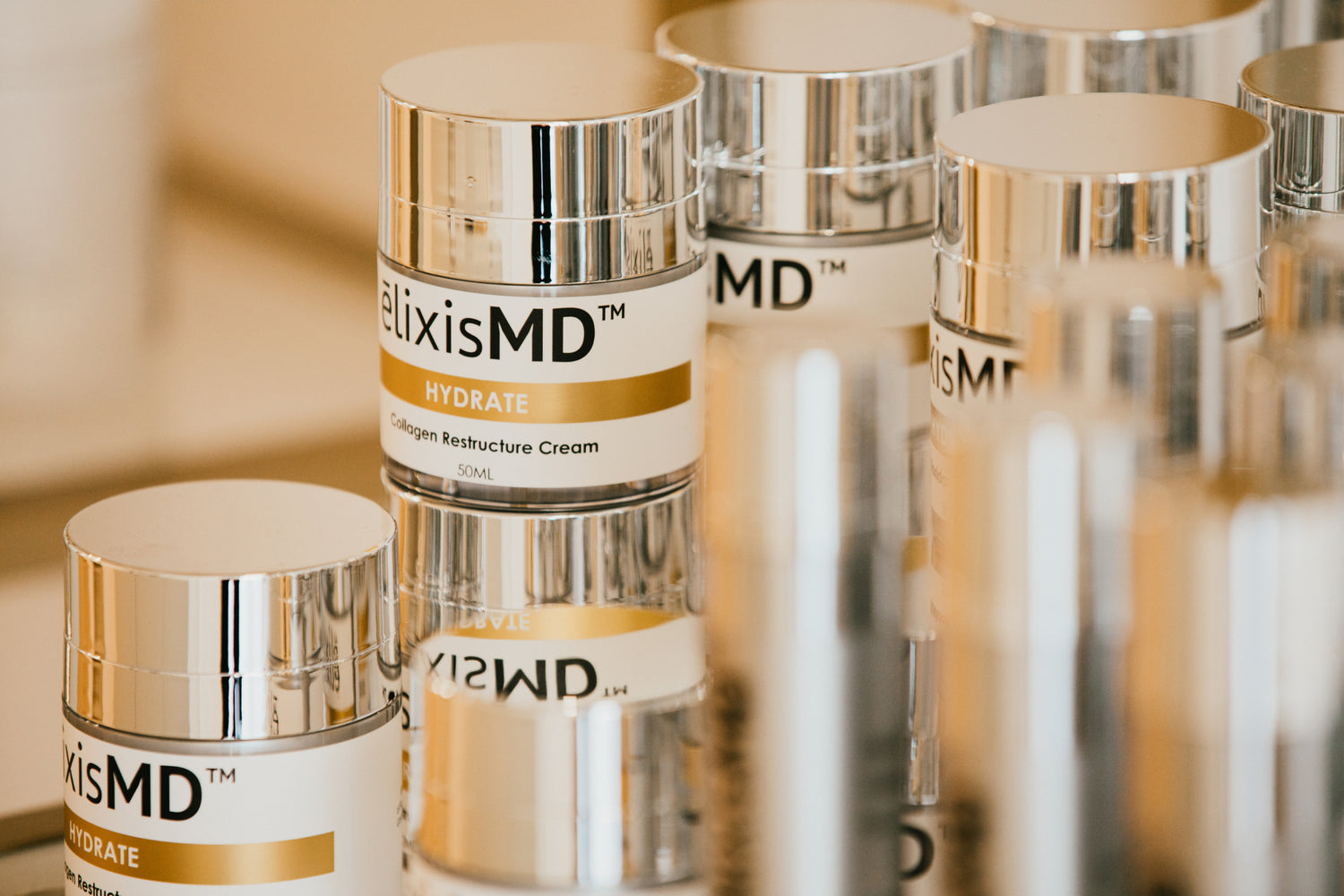 OUR SPECIALIST SKIN PRODUCTS
Thoughtfully developed with you in mind to deliver luminous skin for a lifetime, ēlixisMD brings science together with cosmetic expertise.
Committed to providing clients with a healthy and effective skincare solution right here on the Sunshine Coast, MD Cosmetic and Skin Founder, Melissa Drury, partnered with Lee Wood, owner of Neo Genesis Skin RS Lab, to develop ēlixisMD.
Each product contains potent healing properties sourced within Australia, such as the Kakadu plum, manuka honey and lime caviar to repair, regenerate and rejuvenate the skin.