New Skin Peel Kit
Regular price

Sale price

$149.00
An Anti-aging/ skin rejuvenating home care kit to maintain your skin at home. These medical grade products will gently exfoliate, hydrate and plump up your skin to keep it looking and feeling healthy. The kit contains 3-5 treatments and can be done weekly.
Your kit Includes:
Step by Step Instructions on how to use your kit
5ml Active Charcoal Polish -  
Sophisticated phospholipid-based gel that delivers the AHA formula to exfoliate effectively, treating ingrown hairs, removing impurities & releasing dead skin cells. The compound works optimally with the addition of rice bran wax & black rice granules, ensuring outstanding skin resurfacing leaving the skin silky smooth, refreshed & hydrated. The complex of phytonutrients Ginseng & Ginkgo Biloba reduce free radical damage & ageing whilst calming the skin. Assists with penetration of active ingredient.
5ml New Skin Peel-
Reveals new healthy luminous skin, breaks down, built up stratum corneum (dead skin cells) leaving the skin feeling soft & hydrated with a firm & plumped appearance. Active ingredients include: Lactic, Glycolic, Salicylic Acid & Pomegranate.
5ml Marine Collagen Mask
Regenerates, strengthens & Firms. Anti-oxidant & collagen boost suitable for all skin types. Essential vitamins, minerals and anti-inflammatories protect skin cells from free radical damage, encourage healthy cell function and stimulate new cell growth. Active ingredients include Algae Extract, Sea Buckthorn Extract & Spirulina.
Share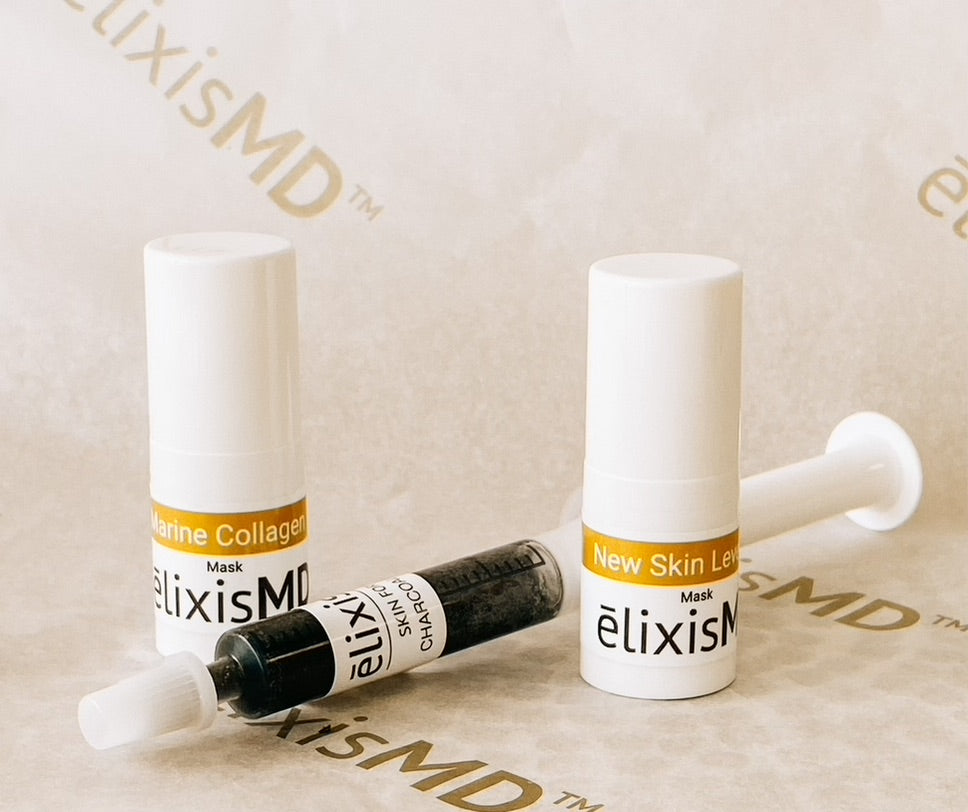 Testimonials
Alina Zahri

I am so happy i found MD. At the beginning of the year i was suffering with post pill acne for the first time in my life and felt so hopeless with my skin. I had a consult with Mel who made me feel so welcomed and hopeful about what we could do for my skin and even gut health (which was affecting my skin). I then continued to get treatments with tayla, who has been so great every single time. The ladies here are so kind, offer you knowledge about the treatments and take care of you the entire process. I recommend this place to all my friends and family, I LOVE IT. ❤️

Suzi Adams

When I first came to MD Cosmetics three years ago, I wanted skin that was healthy enough to no longer feel like I needed to wear foundation. And I can honestly say that goal came true - I almost never wear make up anymore! Mel and the team always make me feel pampered and comfortable. They have totally changed my skin and I'm so grateful I found this place!

Emma Wallace

I have had several treatments with Nurse Laura Barnes at MD and I am thrilled with the service I received and my fantastic results. Laura is so knowledgeable yet approachable and sweet. Thank you MD! I'll be coming back for years!

Tracey Higgins

Treated myself to visiting MD Cosmetics & I'm hooked. Can't go past the Professional & Friendly service offered by Mel & her team. Excellent results. Very happy!!