Hyaluronic | Snap-8 | EGF Hydrate
Regular price

Sale price

$135.00
30ml
A daily powerhouse serum, medical grade hyaluronic acid combined with biomimetic growth factors & 10 peptides. Boosts skin hydration, cell repair, collagen synthesis and maintains elasticity in the skin. Skin type: Hydrates all skin
Additional Information
Description:
This platinum powerhouse serum is designed for needling, post laser, post peels, sun burns, wound healing, scar reduction, restoring elasticity and skin tone. Its moisture retention benefits reduce dryness, itching and burning. It contains the optimal concentration of biomimetic growth factors, peptides & medical grade Hyaluronic Acid, which dramatically boosts the skin's hydration levels, accelerate cellular repair, greatly assisting collagen synthesis, wound healing, lightening effects & maintenance of the elasticity within the skin.
Skin Type: Hydrate All Skin Appropriate for all skin types including sensitive
Application: Home use – Apply 1-2 pumps AM or PM as STEP 2. Can mix with other serums. Ideal treatment enhancer. Massage in to clean damp skin.
Key actives:
This unique concentrate contains 10 cutting edge peptides to help reduce wrinkle formation & Magnesium, Zinc & Copper for bio-energy providing synergistic calibration with peptides for dynamic results
Hyaluronic Acid

 

– Increases moisture retention, providing a more hydrated and supple skin texture. Hyaluronic Acid holds more hydration to the skin than any other natural substance.

Increases moisture retention and hydration
Stimulates the production of ATP, keratin and collagen
Regenerates scar tissue, rebuilding damage to structural fibres
Strengthens the skin matrix & restores skin elasticity
Reduces the depth of wrinkles on the face caused by the contraction of muscles with facial expression, especially in the forehead and around the eyes
Lightens excessive pigment formation for a clearer more youthful, even complexion Natural Moisturising Factor that attracts + binds up to 1000 X its own weight in moisture
Plumps surface tissue to alleviate dry, thinning skin
Assists wound healing + repairs barrier function
Inhibits Trans Epidermal Water Loss– essential for atopic skins

sh Oligopeptide-1 (EGF)

 

– Skin identical Epidermal Growth Factor

Sophisticated Biomimetic Peptide, that accelerates the growth of epidermal cells
Essential for cell proliferation, DNA repair & protein stimulus
Fundamental aspect of healthy skin regeneration
Reduces wrinkles, stimulates collagen & improves elasticity
Accelerates wound healing
Prevents scar tissue formation, maintaining skin health
Reverses existing scarring & structurally reforms promoting youthful appearance

ChroNOlineTM (Caprooyl Tetrapeptide-3)

 

– Biomimetic peptide derived from a growth factor

Boosts the production of key components of the DEJ (collagen VII, laminin-5 and fibronectin) reinforcing healthy skin structure, volume & definition
Helps accelerate the reduction of the appearance of fine lines and wrinkles after only 28 days for younger skin appearance
Activates skin repair
SNAP 8 – Acetyl Octapeptide-3: Is an amino-peptide that blocks transmitter signals from facial muscles to the skin (restricts facial movement) promoting relaxed and smooth skin. Used in conjunction with muscle relaxant injections, this unique product will provide longevity to the procedure for approximately 4-6 weeks.
Beta-White: TM Advanced Lightening Agent Biomimetic Peptide TGF-B / Transforming Growth Factor-Beta
First ingredient with a unique inhibitory action on MITF (Microphthalmia – associated transcription factor) cellular pathway

Reducing MITF activity as well as Tyrosinase aids B-White to reduce Melanin
B-White binds to the TGF-B receptor on Melanocytes. This specific binding introduces an intracellular cascade leading to reduction in MITF activity
B-White has the ability to modulate constitutive (natural skin colour) & facultative (UV induced) pigment
Traditional lightening methods address Tyrosinase inhibition only
Liposomal encapsulation stabilises & delivers Oligopeptide-68 (Biomimetic Peptide TGF-B)
Tetrapeptide 30

 

– Biomimetic (skin identical) Amino acid sequence Proline –Lysine – Glutamic Acid – Lysine

Active on all kinds of skin types
Visibly diminishes hyperchromatic spots
Reduces acne lesions
Alleviates melasma on ethnic skin
Provides a significant anti-inflammatory effect
Safely inhibits the pigmentation process without toxicity or rebound effect

Matrixyl Synthe-6

 

– Palmitoyl Tripeptide-38

Derived from the tripeptide KMK naturally found in collagen VI and laminins (a protein network foundation of the extracellular matrix. These glycoproteins are an integral part of the structural scaffolding, influencing cell differentiation, migration, and adhesion. Capable of binding to cells, which helps anchor organized tissue cells to the membrane & is vital for the maintenance and survival of healthy tissue
Stimulates the synthesis of 6 major constituents of the skin matrix and dermal-epidermal junction (collagen I, III, IV, fibronectin, hyaluronic acid and laminin 5)
Matrixyl Synthe-6 evens out skin and smooths wrinkles from the inside by rebuilding the skin where it is needed, particularly on the forehead and crow's feet
Its primary function is to plump wrinkles & restore a youthful voluminous look
62% reduction in wrinkle depth after 28 days with 2% Matrixyl Synthe 6

Acetyl Tetrapeptide-2

 

Biomimetic Peptide (EGCG – Epigallocatechin-3-Gallate)

Active constituent of Green Tea – Initiates NRF-2, the master switch for anti-oxidant signalling
Protects ECM degradation & modulates inflammation
Shields DNA, membrane integrity & skin structure
Reduces oxidative stress & lipid peroxidation
Inhibits melanogenesis & glycation

Palmitoyl Oligopeptide

 

– studies have proven that this ingredient can refuel Collagen production by 350% & Hyaluronic Acid production by 146% – amino acids Glycine, Glutamine, Proline and Arginine make up this particular form of Oligopeptide

Mimics skins natural trigger for accelerated collagen synthesis
Reduces depth of wrinkles & skin roughness
Deeply penetrating properties that encourage skins natural healthy function & elasticity
Helps stimulate the synthesis of Hyaluronic Acid reinforcing connective tissue as gelatin like material providing structural support (which hydrates & plumps creating volume, definition & a healthy, full look)
Works synergistically with Palmitoyl Tetrapeptide-7 promoting overall skin healing & regeneration

Palmitoyl Tetrapeptide-7

 

– Compound which combines several chains of amino acids to reduce skin inflammation and related skin damage

Stimulates regeneration of collagen fibres in the dermis by acting as a cellular messenger
Increases hyaluronic acid helping to tighten skin by attracting moisture to the epidermis
Skin penetration enhancer
Decreases inflammation by suppressing Interleukin (created in response to damage) which leads to cellular deterioration
Accelerates healing by relieving chemical pressure on the skin
Induces natural collagen production for skin healing and rejuvenation
Symptoms of rosacea maybe alleviated
Reduce the appearance of uneven skin tones

Low Molecular Weight Marine Collagen

 

– Collagen Oligopeptides (high content of essential amino acids)

Endowed with high capacity to interact with skin
Similar amino acid content to the collagen contained in skin
These are our skins fundamental building blocks for structural support (collagen, elastin) inhibiting wrinkle formation & maintaining youthful volume
Contributes to production of Collagen type 1: the major protein in the dermis. It is arranged in fibres creating strength and resistance – increase d by 89% in 72 hours
Stimulates Collagen type III: commonly found alongside type I and plays an important role during skin repair – increased by 67% in 72 hours
Reduced synthesis of collagen I and III is characteristic of chronologically aged skin
Stimulates Hyaluronic Acid Activation – 25% increase in 72 hours
Magnesium Aspartate, Zinc Gluconate & Copper Gluconate

 

– Multi-mineral blend of elements helps to maintain skin function and stimulate cellular regeneration. Enhances and brightens skin tone, restoring skin vitality

Magnesium Aspartate– encourages protein synthesis and phosphates transfer
Copper Gluconate – encourages synthesis of ATP, keratin and collagen
Zinc Gluconate – plays a role in the synthesis of DNA. It helps combat aging by stimulating reversal of
damaged collagen matrix
Cautions: Avoid getting the products in the eyes
Ingredients: Purified Water, Alkyl [C8 to C16] Glucoside, Natural Vitamin E (Tocotrienols, Tocopherol-D-alpha) Caprylyl Glycol, Sodium Hydroxide, Certified Organic Aloe Vera Leaf Juice Powder, Punica Granatum (Pomegranate) Fruit, Vegetable Glycerin, Alpha-Arbutin, Lactic Acid (L), Glycolic Acid, Hamamelis Virginiana (Witch Hazel) Water, Caprylic/Capric Triglyceride, Carbomer, Stearic Acid, Glyceryl Stearate, Cetearyl Alcohol, Xanthan Gum, Salicylic Acid, Gluconic Acid (D), Alcohol, Cetyl Alcohol, Avena Sativa (Oat) Kernel Extract, Allantoin, Olea Europaea (Olive) Fruit Oil, Retinyl Palmitate, Certified Organic Rosehip Oil, Certified Organic Jojoba Oil, Prunus Amygdalus Dulcis (Sweet Almond) Oil, Vanilla Planifolia Fruit Oil, Certified Organic Lavender Oil, Certified Organic Palmarosa Oil, Certified Organic Geranium Oil, Santalum Austrocaledonicum (Sandalwood) Wood Oil, Citrus Grandis (Grapefruit) Peel Oil, Citrus Aurantium Dulcis (Orange) Peel Oil, Lonicera Japonica (Honeysuckle) Flower Extract, Lonicera Caprifolium (Honeysuckle) Flower Extract, Elaeis Guineensis Oil, Zea Mays (Corn) Oil, Phenoxyethanol, Potassium Sorbate, Phytic Acid, Citric Acid, Bergamot Essential Oil
Share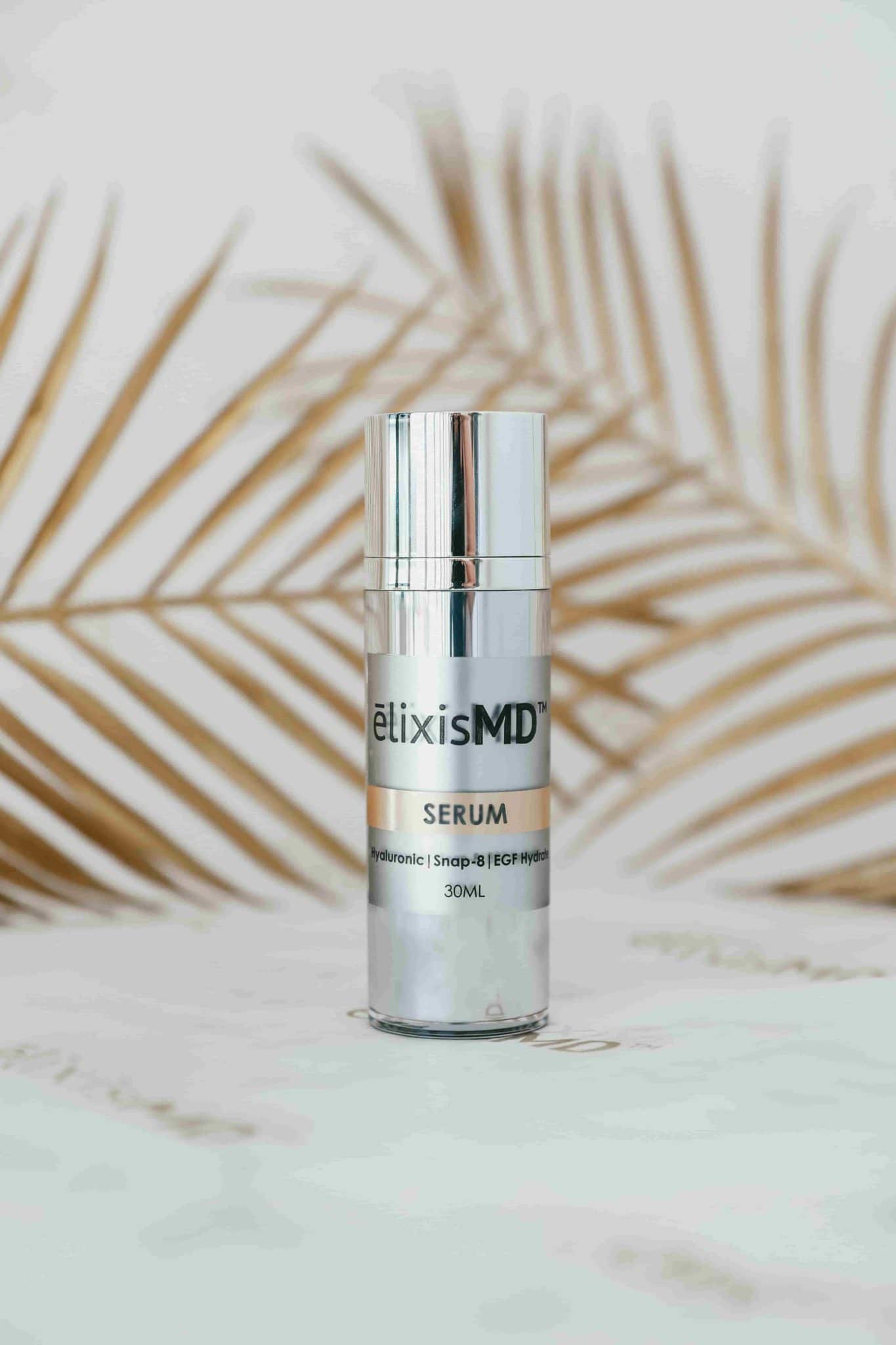 Testimonials
Alina Zahri

I am so happy i found MD. At the beginning of the year i was suffering with post pill acne for the first time in my life and felt so hopeless with my skin. I had a consult with Mel who made me feel so welcomed and hopeful about what we could do for my skin and even gut health (which was affecting my skin). I then continued to get treatments with tayla, who has been so great every single time. The ladies here are so kind, offer you knowledge about the treatments and take care of you the entire process. I recommend this place to all my friends and family, I LOVE IT. ❤️

Suzi Adams

When I first came to MD Cosmetics three years ago, I wanted skin that was healthy enough to no longer feel like I needed to wear foundation. And I can honestly say that goal came true - I almost never wear make up anymore! Mel and the team always make me feel pampered and comfortable. They have totally changed my skin and I'm so grateful I found this place!

Emma Wallace

I have had several treatments with Nurse Laura Barnes at MD and I am thrilled with the service I received and my fantastic results. Laura is so knowledgeable yet approachable and sweet. Thank you MD! I'll be coming back for years!

Tracey Higgins

Treated myself to visiting MD Cosmetics & I'm hooked. Can't go past the Professional & Friendly service offered by Mel & her team. Excellent results. Very happy!!