A|B3|B5|C
Regular price

Sale price

$100.00
Optimal cutting-edge skin rejuvenation, wrinkle reduction, hydration boost & protection. Infuses skin with coveted bFGF (basic fibroblast human growth factor) technologically advanced biomimetic peptides, medically sophisticated vitamins A, B3, B5 & C, natural moisturising factors, lipids, & anti-oxidants. Complete age reversal & anti-inflammatory complex for all skin types with superior, silky feel & liposomal delivery that luxuriously absorbs with no greasy residue.
Skin Type: Dry / Dehydrated / Healing / Sensitive / ALL
Application: 2 -3 pea size after cleansing or active serums. Before sunblock in AM. Can be re-applied throughout the day after more invasive procedures
Essential targets of Hydra Helix +: 1 - Cell Support  2 - Anti-ageing / Anti-wrinkle  3 –  Anti-oxidant / Nutrients
Supporting these 3 fundamental areas of concern requires the intricate framework of key actives that are suspended in a luxurious emollient platform, executing delivery to the critical skin matrix
Key Actives
Oligopeptide-3 (bFGF) – Medically engineered Basic Fibroblast Growth Factor
Recent scientific research suggests that basic Fibroblast Growth Factors regulate a broad spectrum of biological functions, essential in the regeneration of key dermal proteins and connective tissues within the skin
Medically engineered bFGF work by sending bioidentical signaling directly to the dermal fibroblast cells, thereby amplifying cellular activity and accelerating rejuvenation of the epidermal and dermal tissues
Stimulates mitogenic activity towards dermal fibroblasts, thereby initiating cellular proliferation, migration, differentiation, growth and maturation in dermal fibroblast cells
SNAP 8 - Acetyl Octapeptide-3 Amino-peptide that blocks transmitter signals from facial muscles to the skin
SNAP 8 is a mimic of the N-terminal end of SNAP 25. It competes with SNAP 25 for a position in the SNARE (SNAp Receptor) complex, an essential process for neurotransmitter delivery.
By modulating its formation & destabilising this complex the release of neurotransmitters is inefficient, weakening muscle contraction
Reduces repeated facial movements preventing the formation of lines & wrinkles
Maintains youthful structural fibres of collagen, elastin & packing of the lipid matrix
Maximum wrinkle reduction value found with usage of 10% SNAP 8 was 63.13%
98% wrinkle depth reduction after 28 days with 10% SNAP (applied twice daily)
Retinaldehyde 0.05%
Works like prescription A without the side effects – outstanding compliancy rate
Skins natural storage form of A – non irritating – epidermis not compromised
Stored in the fat cell – converted to Retinoic Acid within the skin – prolonged vitamin release
Never found in the blood stream – safe during pregnancy
Physiologically alters damaged DNA – new cells replicate in healthier state
Normalises hyperkeratinisation – reducing congestion in ACNE & ROSACEA sufferers
New collagen production at 3 months – creates volume in dermal tissue
Rebuilds damage to structural fibres - plumps scar tissue & lines
Compresses distended vessels – damaged vascular network less visible
Normalises over active melanocytes – minimising hyperpigmentation
Regulates sebaceous activity – reducing oil output
Reconditions the skin to manufacture Glycosaminoglycans & NMF's
Niacinamide 2% – Vitamin B3
Repairs barrier function – reducing sensitivity
Potent anti-inflammatory – calming atopic skin disorders
Inhibits Melanosome transfer to Keratinocyte – normalising hyperpigmentation
Maintains surveillance function of Langerhan Cells during UV exposure – reducing tumour formation
Regulates moisture levels – over active sebaceous activity slowed – hydration levels restored
Delivery mechanism for other nutrients
D-Panthenol 2% – Vitamin B5
Vital nourishment that adds moisture, maintains elasticity & strength of barrier function
Anti-inflammatory – calming atopic skin disorders by reducing oxidative stress & environmental toxins
Smooths roughness, irritation & fine lines
Revitalises & aids healing processes by encouraging growth of new epithelial cells
Regulates moisture levels – over active sebaceous activity slowed – hydration levels restored
Nutrients promote luminous, even toned skin by managing healthy levels of fibroblasts, prolific in skins connective tissue defying ageing
Magnesium Ascorbyl Phosphate 5%
Water Soluble, non-irritating, stable derivative of Vitamin C
Enzymatically converted into L-ascorbic within the skin
Boosts collagen synthesis
Suppresses melanin production, inhibiting further pigmentation reducing existing uneven pigment
Ideal for sensitive skin types
Protects the skin against oxidative stress caused by sun, pollution & heat
Boosts radiance and reduces signs of ageing
Sodium PCA
Natural Moisturising Factor – providing long term correction to dehydration
Physiological hydrators offer long term restoration to treat NMF + LIPID deficiencies
Olive Complex: It is a natural complex of fatty acids, chemically similar to the lipidic composition of the skin surface
Composition: Oleic 55 - 83% | Palmitic 7.5 - 20% | Linoleic 3.5 - 13.5% | Stearic 0.5 – 5% | Linolenic max 0.8 - 1.2
Skin Composition: Oleic 30 - 35% | Palmitic 5% | Linoleic 3.5 - 13.5% | Stearic 20 -28% | Linolenic max 0.8 - 1.2
Has the ability to generate liquid crystal structures that mimic stratum corneum organization
Due to its exceptional chemical composition and physical structuring, it acts in a biomimetic manner, interacting with the human hydrolipidic film to promote healthy barrier function, skin hydration and elegant skin feel
An epidermis that is intact at the outermost boundary is crucial for a well-functioning physiological interaction between the individual skin layers
Aids restoration of the lipid barrier of dry and fissured skin conditions
Created to support green chemistry philosophy with cutting-edge technology, making it possible to craft products with superior function & texture
Intercellular lipid matrix represents the mortar between the corneocytes (bricks) & is made up of the following:
50% Ceramides (most important structural elements of the lipid barrier)
25% Free fatty acids
20% Cholesterol
5% Cholesterol Sulfate
Amino acids
Jojoba Seed Oil: Non comedogenic, biomimetic esters that closely resemble human sebum. Anti-bacterial & anti-inflammatory defence against invading  micro-organisms. Repairs protective acid mantle – barrier. Long term correction is induced with ingredients that occur naturally in the skin providing calibration & optimal function. The skin learns to rehydrate itself again - Promoting less dependence on extra products
Allantoin – Anti-irritant, wound healing, increases cell proliferation, softens corneocytes, slows dehydration, inhibits TEWL (trans epidermal water loss) Beneficial for those with compromised immune systems, wounds, burns, eczema & other inflammatory skin disorders
Lactic Acid 1.6% – Hydrating Alpha Hydroxy Acid (AHA) that naturally exists within the skin. Gently aids removal of dead skin cells to decongest, clarify & aid uneven pigmentation
Ingredients: Aqua (Purified Water) Magnesium Ascorbyl Phosphate, Sodium PCA, Glycerin, Simmondsia Chinensis (Jojoba) Seed Oil, Glyceryl Stearate, Caprylic/Capric Triglyceride, C13-16 Isoalkane, Heptyl Undecylenate, Niacinamide, D-Panthenol (B5) L-Lactic Acid, D-Alpha Tocopherol, Cetearyl Olivate, Cetearyl Alcohol, Cetyl Palmitate, Sorbitan Olivate, Sorbitan Palmitate, Sorbitan Oleate, Aloe Barbadensis Leaf Juice, Polysorbate-80, Oligopeptide-3, Retinaldehyde, L-Glutathione, L-Carnitine, Tetrapeptide-30, Acetyl Octapeptide-3, Polysorbate-20, Alpha Bisabolol, Squalane, Lecinol S-10 (Hydrogenated Lecithin) Citrus Aurantium Bergamia Fruit Oil, Michelia Champaca Flower Oil, Citrus Aurantium Dulcis Peel Oil, Citrus Paradisi Peel Oil, Propanediol, Sucrose Laurate, Mannitol, Sodium Chloride, EDTA, Polyglyceryl-10 Myristate, Benzalkonium Chloride, Caprylhydroxamic Acid, 1.2-Hexanediol Lecithin, Pullulan, Sclerotium Gum, Xanthan Gum, Caprylyl Glycol, Sodium Phytate, Phenoxyethanol, Ethylhexyglycerin
Share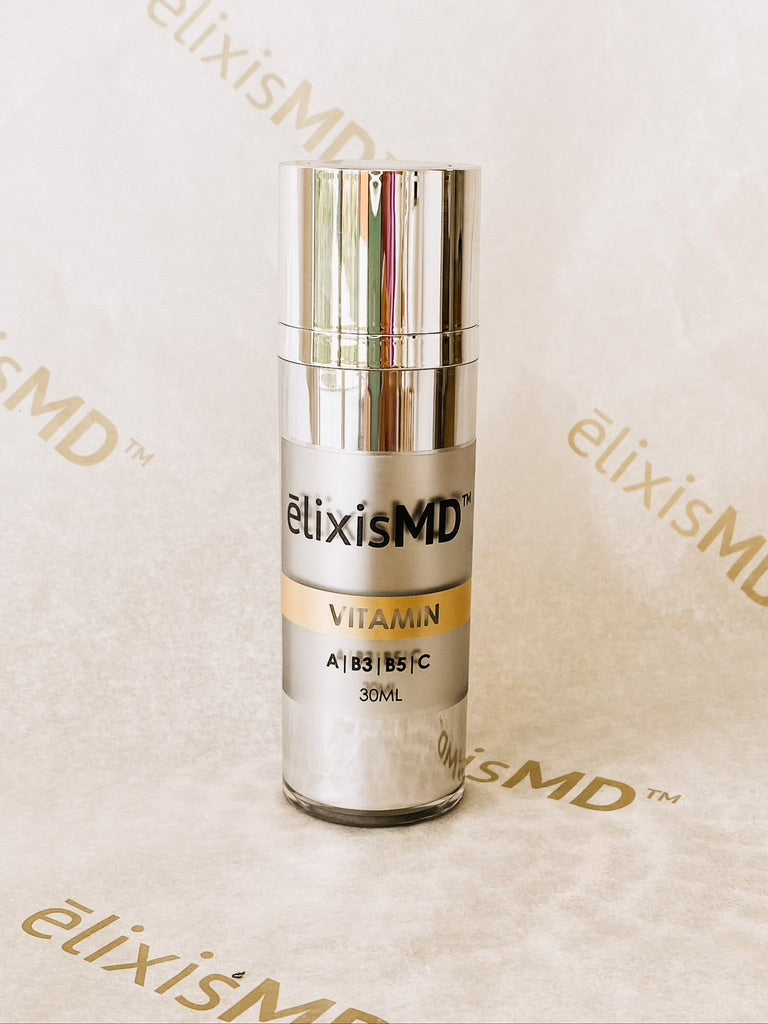 Testimonials
Alina Zahri

I am so happy i found MD. At the beginning of the year i was suffering with post pill acne for the first time in my life and felt so hopeless with my skin. I had a consult with Mel who made me feel so welcomed and hopeful about what we could do for my skin and even gut health (which was affecting my skin). I then continued to get treatments with tayla, who has been so great every single time. The ladies here are so kind, offer you knowledge about the treatments and take care of you the entire process. I recommend this place to all my friends and family, I LOVE IT. ❤️

Suzi Adams

When I first came to MD Cosmetics three years ago, I wanted skin that was healthy enough to no longer feel like I needed to wear foundation. And I can honestly say that goal came true - I almost never wear make up anymore! Mel and the team always make me feel pampered and comfortable. They have totally changed my skin and I'm so grateful I found this place!

Emma Wallace

I have had several treatments with Nurse Laura Barnes at MD and I am thrilled with the service I received and my fantastic results. Laura is so knowledgeable yet approachable and sweet. Thank you MD! I'll be coming back for years!

Tracey Higgins

Treated myself to visiting MD Cosmetics & I'm hooked. Can't go past the Professional & Friendly service offered by Mel & her team. Excellent results. Very happy!!